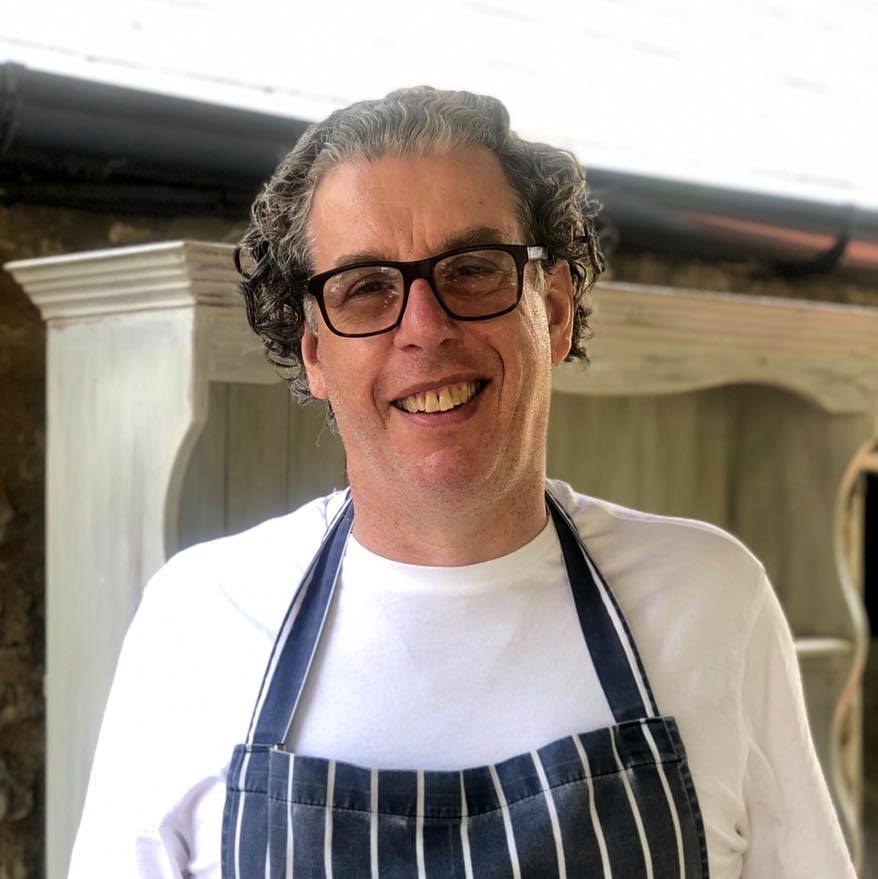 Bryn Jones
"…a modest but extremely accomplished chef-patron. Bryn cooks delicious food serving it with a minimum of fuss and maximum flavour." by Rev. R.S.
Bryn Jones is an award-winning Chef Owner with more than 30 years of experience.
Before Bryn with his wife Oxana moved to the Scottish Borders in April 2022 they were running The Oxford Arms award-winning dining pub in Kirtlington village, Oxfordshire for 20 years.
After just six months from opening THE GORDON ARMS Restaurant with Rooms in Yarrow Valley, Scottish Borders, Bryn and Oxana Jones were pleased to be awarded four-stars from the AA for the rooms and the restaurant and an AA Rosette Award for Culinary Excellence.
In January 2023 they received another prestigious quality assurance award – Taste Our Best – which identifies the best places to eat and drink in Scotland.
Bryn and Oxana are also very conscious of the environment and carbon footprint. They are endeavouring to achieve sustainable tourism for our guests, employees and local community. And as a result, they were chosen one of the five UK nationwide finalists for the Boutique Hotelier Award 2022 in the category "Best Sustainable Achievement" in October 2022.
Bryn started his career graduating three colleges including Westminster College, London and then working in several London restaurant including Bentley's Group, London. He was a co-founder and Operations Director of The Gourmet Pizza company and Riviera Restaurants Group operating six successful restaurants in London for more than ten years. Later he sold his business to Pizza Express and moved to Oxfordshire.
Soon after he opened The Oxford Arms dining pub he was included in the main entrances of the most prestigious International food guides like The Good Food Guide, Sawday's , AA Pub Guide, The Good Pub Guide and others.
A lot of very positive food critics reviews in the regional and national papers.
The Oxford Arms restaurant was included into the best 500 UK's places to eat and drink by Sawday's Great British Pub Guide. 500 best pubs are just only 1% of the total number of pubs in the UK, therefore, we are very proud to be in this prestigious list.
Bryn Jones's rules are very simple:
We do look after you from the moment you arrive to the moment you leave.
We don't pile our food up so it looks like a bonfire.
We don't serve anything but soup in soup plate.
We don't have 'A la this' or 'A la that' on our menu.
We do serve only prime cuts of the aged beef.
We do serve more than 80% of local produce.
We do worry about our Planet.
Our quality is remembered long after the price is forgiven.
In our previous establishment
– The Oxford Arms Dining Pub in Kirtlington, Oxfordshire –
we were awarded and recommended by
Good Food Guide (2015 – 2021) – Local Gem – "…A fixture in the village since 2003, Bryn Jones's characterful 19th-century pub is everything a village hosterly should be…"
Good Pub Guide (2009 – 2021) – Recommended and approved "…Civilised and friendly stripped-stone pub with enjoyable food using local produce and good wine choice.."
Alastair Sawday's. Pubs & Inns of England & Wales. Special Places (2008 – 2021) – We have been included into a special edition "One of the best 500 pubs in the UK among 48,000 pubs by Sawday's", being among the top 1% Nationwide is a great honour.
The Telegraph – featured as one of the two pubs in Bicester area
The Oxfordshire Cook Book – One of the Best Pubs in Oxfordshire among 10,000 restaurants in Oxfordshire and featured a recipe by Chef Patron Bryn Jones of Natural smoked haddock and leek tart